tomveatch.com / Table Tennis
Tom's Ping Pong Holiday (1999)
I had a great time at the US Nationals Table Tennis tournament. It was a wonderful, family-atmosphere event at the Las Vegas Convention Center, with cheap hotels, big buffets, and 830 registered competitors to practice with, all of them friendly (except for two racist Armenians that just had to harrass this one sweet black kid from New York; they made me so mad!).
Table tennis is SO GREAT!
It's small
In what other sport can you go to the national championships and meet the top players in person, and watch them play for free? It's great.
It doesn't discriminate.
Table tennis is a great equalizer. Sex, age, ethnicity, and handicaps mean a lot less in table tennis. Among the top players (with a rating above 2200!) was one in a wheelchair, and another who was a 'little person'. The top woman in the US is also the fourth best player overall in the US -- they aren't all men. The top player in the US is over 40. Kids of 10, 12, and 14 years of age, as well as oldsters in their late 60's, win (age-unrestricted) major events. Immigrants and native born Americans, people of all colors are all to be found at the highest levels in the sport.
How it works
There are doubles, paralympics, age-restricted, rating-specific, and open events. I played in the "Ratings" events. Any player is eligible to play in a range of 5 consecutive rating-level events, where players compete roughly within their level. You play each of the other three players in a round-robin group, and then the winner of the group goes on, eventually to quarterfinals, semi's, and a final. Unrated players are disqualified from winning their round-robin groups, since winning means they probably belong in a higher level anyway.
How I did
Since this is my first tournament, I am unrated. But it doesn't matter since I didn't win any of my round-robin groups, except in my lowest, under-1100 group. In the next two levels, U-1200 and U-1300, I lost to Sergey Gutkin, who was just 10 years old; check him out. I have to say it was kind of wierd to try to serve a concealed side-topspin into the corner against a player whose chest is below the table top. And even more wierd when he smashed it for a winner,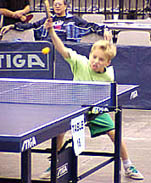 time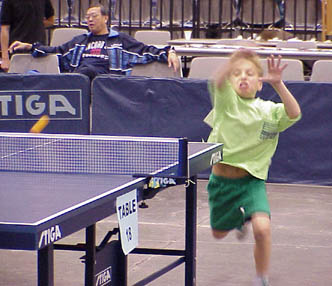 after time.

He was legit, though; last year's US National Champion among under-10 kids this last year, winner overall in the U-1200 group; third overall in the U-1500 group, so I didn't feel too bad. In total I had 15 matches, and won 10.

U-1500 2 wins, 1 loss (in 3 to a 1477-rated guy from Austin)
U-1400 2 wins, 1 loss (in 3 to Paul Intagliata)
U-1300 1 win, 2 losses (in 3 to Peter Young and in 3 to Sergy Gutkin)
U-1200 2 wins, 1 loss (in 2 to Sergy Gutkin)
U-1100 3 wins, no losses

From the USATT website:
UNDER 1500
Bruce Liu (CA), who had already won Under 1300 (with a 1226 rating), started out "slow," having to win three-gamers in the eighths (-10, 14, 16 over top-seeded Ly Hien Le), and in the quarters (-14, 13, 10 over Rodney Lock). But from the semifinals on, the event was his, as he defeated 10-year-old sensation Sergey Gutkin (CA) in one semifinals, 14 & 16 (see Bill Lui-coached Gutkin's picture as next week's "Photo of the Week" on the USATT Web Page, going up on Monday, Dec. 21), and Nazih Elhayek in the final, 10 & 19. Nazih had defeated Gary Alcares (CA) in the semifinals, 12 & 20.
UNDER 1200 SINGLES
10-year-old Sergey Gutkin (CA), a student of Bill Lui and Avishy Schmidt, defeated Henry Han (CA) in the final, 16 & 16. Gutkin, who would be wealthy if his energy could be bottled and sold, attacked all-out throughout the match. Said Gutkin of the final, "I looped spinny to set up the shot, then smashed." Henry, who after a bye and two consecutive defaults, found himself in the semifinals against Lewis Chan, winning at 18 & 13. Gutkin had barely defeated Gene C. Pool (MI) in the semifinals, -19, 21, 6.